If you've ever wondered and wanted to build a tiny display sub, Joseph's the guy to ask, he built two of these tiny sized subs, an American Fleet Boat and a German Coastal U-boat. I also offered to take some shots.
Here are two reviews written by Joseph, edited for web publication.
U-boat type 206A
First I would like to rate the kit by it's quality and I would give it a 3,
because, I have dropped the kit 5-6 times and it never broke.
I would also like to add on a few other things:


I would like to recommend the skill level of this kit, that would be a 3/5,
But to people that are in the advanced submarine model building, it would be
a snap, because it would be really easy.
When I finished building the model submarine, I was really
happy with what I assembled. But I made a few mistakes,
either than that it turned out to be great.


Here is what is included in the kit: the diving planes, conning
tower parts, rudder, the propeller, and the hull.
I built it easily; I just followed the instructions and put every piece
where it was supposed to be and glued it in the right spot.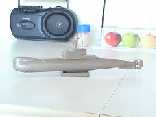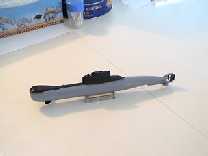 Here's the Gato review:
SS GATO FLEET SUBMARINE
I would like to rate the kits quality, it would be a 4/5
There are a few other things I would like to add on;
The skill level of this submarine kit, is a 2 as said on the box.
It only took me 30 min, to do this submarine model, but when I was
finished, it looked awesome.... By the way the submarine is black.
It was so easy to build. All you have to do is follow the instructions.
like you would always do in any model-building hobbies. Just look at the
pieces that you have and put them in the right spots.


Features are:
- 15.5" Long
- Fully Detailed Model kit
- Accurate Decals
- Complete Instructions
- Measure 39,37cm de Long
- 1/240 Scale Model kit