This tank was built a couple of weeks ago from a MIni Hobby Models kit, they are the original Trumpeter model series, I have to say that this kit is quite difficult for even a medium skilled modeler, some small pieces are very hard to handle and must use a twizzer. The model is motor-driven and can run along the floor.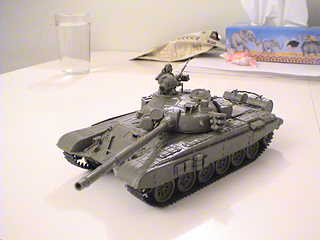 Unfinished overall view of the tank.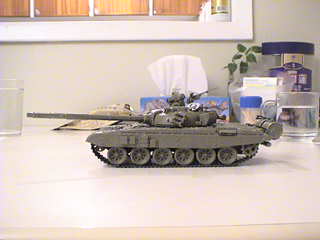 View from the side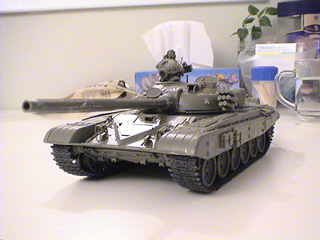 One of my favourite views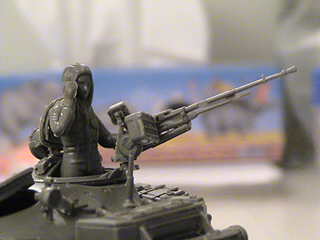 This is a figure of the commander in his cupola, the figure isn't glued, so we can place him in any position desired, the magine gun is also a beauty.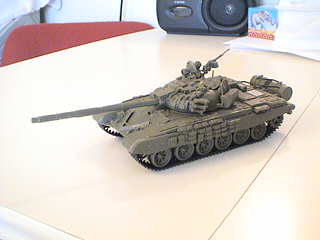 This the finshed overall view of the tank, the model comes with two choices: you can build the model with the reactive armor, the ERA, or with no ERA, I chose to add the reactive armor.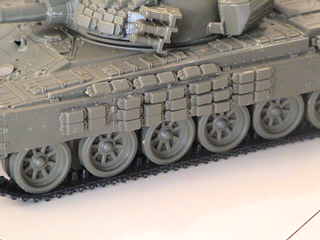 This a closer view of the wheels, as you can see, the ERA is clearly visible. When I was installing the tracks, I found that they were longer than expected, so I decided to cut and resize them. Unfortunately, somehow, the tracks turned out to be shorter! In the end, I used some contact cement to glue the whole thing in place.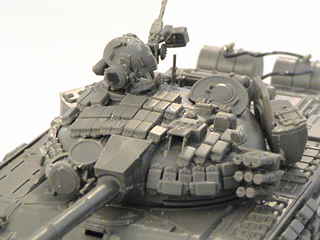 This is another one of my favourite views, the TURRET! It is covered with ERA, reactive armor in action! I also chose to leave the gunner's hatch half-opened.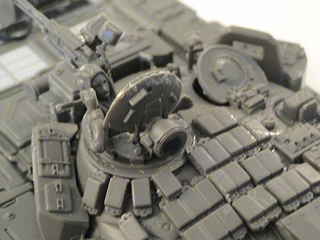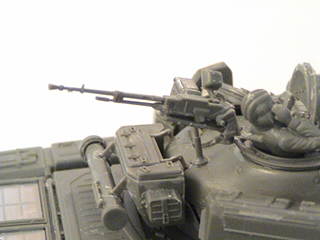 Some other shots of the commander and the machine-gun. As you can see, since the commander isn't glued, so he can be placed in various different positions, the guarding position, the gunning position, outside the tank, or this "relaxing" position.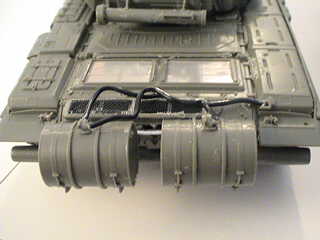 No tank is complete without its own fuel barrels! These are included with the model and can be chosen to be installed or not, the engine grills and the exhaust are included too, some toolboxes are included for turret also. This a nice kit, the only "ARRRRRgh!" is installing the tracks and reparing (you can almost say "replacing) the broken switch!
Here are my ratings:
Overall: 5/5
Difficulty Level: 4/5
Detail Level: 5/5
Kit Completeness: 5/5
Instructions: 4/5 (clear but some times the pictures do not match the model)
Here are my suggestions for the intrepid modeler: this NOT a beginner kit! I strongly suggest that you build an easier model first, some parts can be really difficult to glue and patience is definately need!