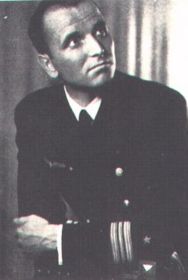 Fregattenkapitan Otto Kretschmer
Certainly, the best U-boat ace that the war has produced, Otto Kretschmer began his naval career on a sailing school ship and the warship Emden. Upon entering the U-boat force, he commanded the U-35 on patrols during the Spanish Civil War (1937), Kretschmer was then transfered to the small "canoe" U-23 (Type II) where he also took the command. In December 1939, he sank the 1,375 ton British destroyer HMS Daring, for a small coastal sub of 250 tons to sink such a warship was trully incredible. Otto Kretschmer was next given command of the new Type VIIb, the U-99 on which he created his famous quote, "one torpedo, one ship!" His last patrol resulted in the scutlling of his U-boat and the captured of his crew when the U-99 failed to dive under the attack of the British destroyers HMS Vanoc and HMS Walker. Otto Kretschmer then spent the rest of his days as a prisoner of war until he was released in 1947. During his career in the U-boar service, Otto Kretschmer sank a total of 56 account for more than 300,000 tons and was awarded the award of Knights Cross with Oak leaves and Swords.
Awards:
Iron Cross (1st, and 2nd class)
U-boat War Badge
Knights Cross (w/Oak Leaves and Swords).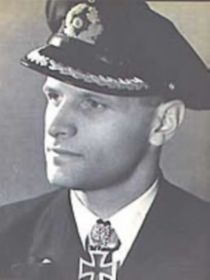 Kapitan zur See Wolfgang Luth
Wolfgang Luth was transfered to the U-boat force in 1937, and just like Otto Kretschmer, he also spent on patrols during the Spanish Civil war of that time. During his career, he commanded five U-boats (U-13, U-9, U-138, U-43, U-181) and sank a total of 47 ships accumulating up to more than 200, 000 tons of shipping. As the war went on, Luth has spent on patrol covering waters from the South Africa to the Indian Ocean, he also held the record for the second longest ptrol in the entire war, lasting 205 days. Since the Indian Ocean and South African waters offered an easy opportunity to score a hit, many of his ships were sunk there. Wolgang Luth spent more than 5 years on patrols and was transfered to the 22nd Training Flottilla and later to become the commander of the German Marineschule. Luth spend the rest of his wartime career training new Kriegsmarine recruits and making them ready for U-boat operations. Luth died a peculiar death when he was accidentally shot in the head by a German sentry a few days after the war ended, he failed to indentify himself when asked who he was probably because he was drunk or committing suicide on purpose. He was later given a state funeral and was the only U-boat commander to receive such an honour, Luth was also one of the few officers who received the ultimate award of additional Diamonds added to his Knights Cross.
Awards:
Iron Cross (1st and 2nd class)
Knights Cross (w/Oak Leave, Swords and Diamonds).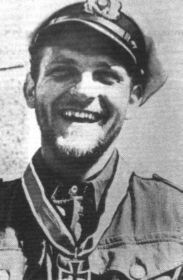 Fregattenkapitan Erich Topp
Erich Topp first served aboard the light cruiser Karlsruhe and began his U-boat career aboard the U-46 as a watch officer. Topp later commanded the Type II U-boat U-57 on which he scored six hits, the boat later sank during an accident with a Norwegian ship. Topp was next given the command of the Type VIIc U-boat U-552, on which he painted two emblems of a red devil holding a torch, the boat was later made famous by the name " The Red Devil Boat". He carried out an overall of 10 patrols on U-552. Erich later became famous when he sank the American destroyer USS Reuben James, which became the first American warship to be sunk in combat. The sinking of the Reuben James took place about six weeks before the war was declared between the US and Germany, U-552 was later scuttled on the 2nd of May, 1945. In 1942, Topp commanded the 27th Training Flottilla and wrote instructions for commanders of the newly commisioned Type XXI U-boats, including his own U-2513. Topp's life was almost constanly surrounded by the sea, he later became a member of the post German Navy, the Bundesmarine.
Awards:
U-boat War Badge (later decorated with Diamonds)
Knights Cross (w/Oak Leaves and Swords).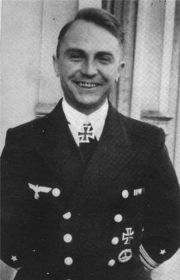 Korvettenkapitan Gunther Prien
Gunther Prien joined the U-boat Force in October 1935, his first service aboard a U-boat was spent on the U-26, also patrolling Spanish waters during its civil War in 1937. He later received his own boat, the Type VIIb sub U-47, when Donitz asked him if he could carry out the deadly mission of penetrating Scapa Flow in order to take a hit at enemy shipping, Prien was enthousiastic and signed on without hesistation. On the night of October 14th, he took his boat and crew to the limit when he successfully penetrated the defenses of the British base through a very narrow passage and once in base waters, sank the British 31,000 ton battleship HMS Royal Oak. When the boat came back undamaged and without a scratch on her hull, people cheered and greeted them for their homecoming. The sinking of the Royal Oak was an enormous feat considering the powerful defenses of Scapa Flow and how the boat was almost undetected as it entered the waters. Donitz, amazed by this achievement, decorated all of U-47's crew with Iron Crosses, Prien himself was the first recipient of the Knights Cross. Hitler later invited the boat's crew to dinner in Berlin, a rare occasion for a U-boat commander to be honoured this way. As the year went on, Prien proved to be one of the most sucessful commanders by finding and attacking convoys, and leading numerous wolfpacks on assaults. However, the career of Prien was short lived, on the 7th of March, U-47 radioed her last message to headquarters as she had just finished off another convoy and the whole boat was never seen again. For years it was believed that the British destroyer HMS Wolverine might have caught up with the U-boat and sank it but later evidence proved this to be wrong, the boat likely suffered mechanical malfunctions, structural defects, or destroyed by British corvettes. With only a lifespan of 3 years, the U-47 sank a total of 31 ships, for more than 100,000 tons, Prien was only 33 when he died on the boat's last mission.
Awards:
Iron Cross (1st, and 2nd class)
Knights Cross (w/Oak Leaves).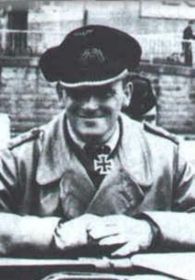 Korvettenkapitan Herbert Schultze
Herbert Schultze began his career by joing the pre-war German Navy known by that time as the Reichsmarine, he and two other U-boat Aces, Karl Merten and Heinrich Willenbrock served together aboard the light cruisers Leipzig and Karlsruhe. Schultze joined the U-boat Force in 1937 and commanded his first U-boat, the U-2 (Type II) in 1938, he did not go on patrol during this time however. Over a year later, he was given command of his very own sub, the U-48, which will go down history as the most successful U-boat in WWII with 52 ships sunk. Together with his crew, he carried numerous patrols which were all very successful and became the second officer to be awarded the Knights Cross. However, in May 1940, Herbert Schultze was forced in hospital because of a serious kidney malfunction and had to transfer his command to Hans Rosing and Heinrich Bleichrodt. Schultze later resumed his command aboard the U-48 and became commander of the 7th and later 3rd Flottillas, later to join Amdiral Donitz's staff. During 1944, he joined and lead the German Naval War College and served his duties until the end of the war. Herbert Schultze was a fine captain and cared very well for his crew, when he died in 1987, his friend Otto Kretschmer spoke and looked onto him as a "naval officer of the best tradition" and an examplary comarade. During his career, Herbert Schultze sank 28 ships accounting for a total of more than 100,000 tons.
Awards:
Iron Cross (1st and 2nd class)
U-boat War Badge (later added Diamonds)
Knights Cross (w/Oak Leaves).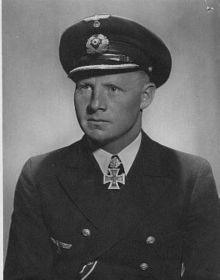 Fregattenkapitan Heinrich Lehmann-Willenbrock
During 1931, Heinrich Lehmann-Willenbrock served over a year aboard the light cruiser Karlsruhe, he joined the U-boat force in 1939 and served aboard the U-8. Willenbrock later commanded the U-5 and went on ptrols covering Norwegian waters during opertation Hartmut. He left U-5 in August 1940 and commisioned the U-96, a Type VIIc U-boat. On the boat's seventh patrol, a war correspondant named Lothar-Gunther Buchheim joined the crew with the task of gathering information and taking pictures, protraying U-boat life and contributing to the propaganda industry. Buchheim later published a book retelling his experiences aboard the U-boat and the book was later to become of one the most famous movies in military works, entitled Das Boot. Willenbrock later commanded the 9th and 11th Flotilla and served with the latter until the end of the war. During post-war years, he was involved with many naval activities